Never claiming to be the most powerful console on the market, the Nintendo Switch has become synonymous with doing more with less. This isn't a dig at the system, but rather a testament to just how many games are made instantly better by virtue of being able to become portable at a moment's notice and tend to virtually every demographic of player. There is one genre, however, that can get tricky for the little Nintendo hybrid – sports games.
Despite Nintendo being somewhat forever linked with sports games thanks to the unprecedented success of the pop culture touchstone Wii Sports, the genre has always been seen as above the Switch's pay grade. This is especially true when it comes to trying to render the increasingly life-like graphics of the biggest selling AAA sports games (and their file sizes, for that matter).
But the Switch has found itself to be a haven of arcadey, insane, but incredibly fun sports games that don't need exceedingly complex graphics to be stellar and that might've gotten overshadowed on other systems by those big budget mainstays. How exactly do they fare head-to-head? Well, we're here to pit them against one another as we rank the best sports games on Nintendo Switch.
Best Sports Games On Nintendo Switch
15. Mario Strikers: Battle League
Developer: Next Level Games
Publisher: Nintendo
A revitalized version of the GameCube classic Super Mario Strikers pits Mario and friends (and your friends) against one another in ridiculous arcade-style soccer battles. "Battles" is an appropriate term, seeing how the Mushroom Kingdom gang are all suited up in armor-like gear to survive these no holds barred games.
The online play is the biggest selling point but still suffers from Nintendo's less than ideal online service, while the game also lacks some things fans have been asking for. That said, the ability to finally be able to play Mario Strikers on the go and kick fireballs or Bomb-ombs halfway across the screen is a satisfying enough pull for players of all ages.
14. Golf Peaks
Developer: Afterburn
Publisher: Afterburn, 7Levels
A minimalist game that still has appealing graphics, Golf Peaks sees the player using card actions to help their golf balls climb to the top of mountains. It really is that simple. Well, as simple as strategizing ways to solve progressively more difficult puzzles can be.
This sports puzzle platformer is chock full of charm and a stupidly simple cardboard-esque aesthetic, which is ideal even if you have absolutely no idea how real golf works. Golf Peaks is a chill-but-challenging game that feels right at home on the go, easily making it one of the best sports games on Nintendo Switch.
13. Mario Golf: Super Rush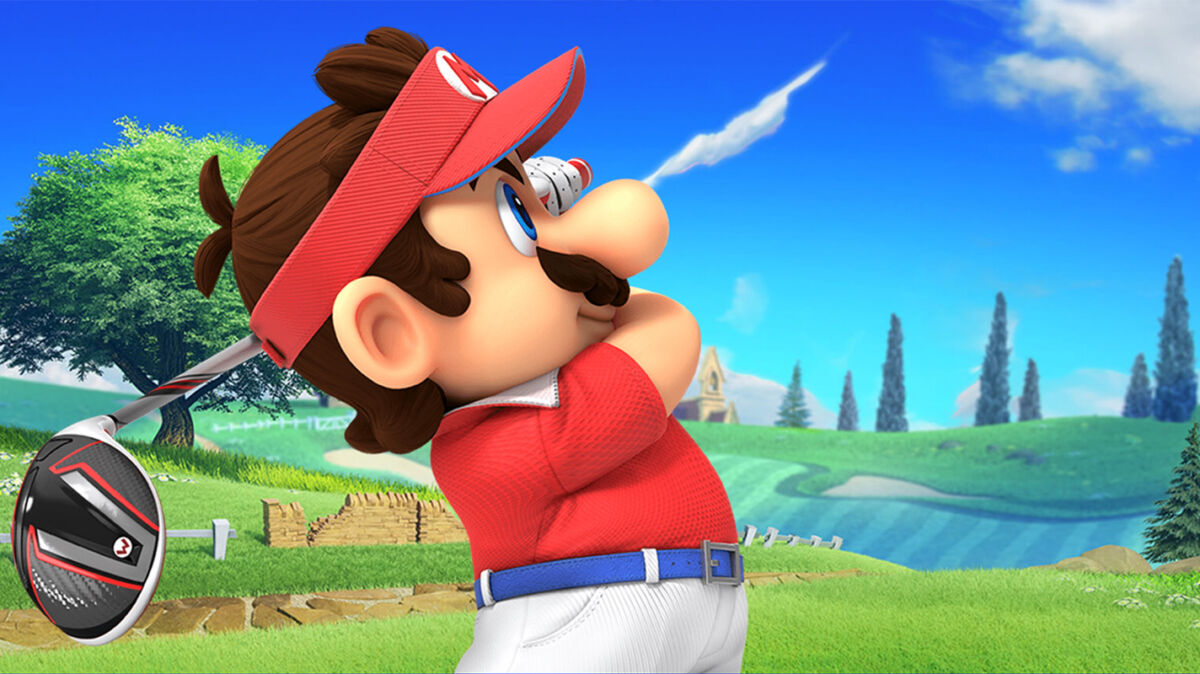 Developer: Camelot Software Planning
Publisher: Nintendo
Another Mario sports game that brings the fun, Mario Golf: Super Rush is the upgraded version of the Mushroom Kingdom caddy club. There are several other golf titles on this list, and virtually all of them take joy in helping the player feel very zen and relaxed. Not so much with Mario Golf: Super Rush, which has new modes like Battle Golf and Speed Golf that makes your heart race as you literally try and fight other players to see who can so much as get to your ball and hit it first.
It proceeds to be a different flavor from those same chill indie titles with the regular modes, which pit you against other players, whether online or in single-player, in several tournaments or the Adventure mode, which sees you and your Mii try to make it to the top of the heap of the league. Like Mario Strikers, the Switch release drew flak for not feeling as complete as some previous entries, but that doesn't stop Mario Golf: Super Rush from being a unique, great time.
12. Retro Bowl
Developer: New Star Games
Publisher: New Star Games, Five Aces Publishing Limited
If you have no need for any of the bells and whistles of modern games, especially on the Switch where enhanced modern graphics present tons of trouble, and you're looking for something 100% drenched in the entire idea of "old school," Retro Bowl is here for you. As the name implies, it's an American football simulator with a retro aesthetic and playstyle.
There's no pesky player animations or crazy distractions, just you playing your best armchair quarterback and trying to make it to the Retro Bowl. You still have to manage the egos of the members of your team and know how to handle the media , but it all adds to the experience of Retro Bowl being the best sports management game on the Switch.
11. Nintendo Switch Sports
Developer: Nintendo
Publisher: Nintendo
One of the longest standing questions about the Switch was where the next Wii Sports would come from for more casual players. Sure, you had the sort of showcase party game 1-2 Switch, but it didn't fit the bill nearly well enough. Then finally, five years into the Switch's existence, we finally got Nintendo Switch Sports.
Coming out of the box with mainstays bowling, tennis, and swordplay while adding new sports like volleyball, soccer, and badminton, Nintendo Switch Sports has all the foundations to replicate those great times destroying friends and family in your own living room. With the improved motion controls of the Switch, it makes it much less frustrating than a decade ago.
Also working in Switch Sports' favor is that new modes and sports can and will continually be added as the years go on. Even though it took far too long for it to get here, Nintendo Switch Sports is one of the most fun co-op titles on the console.
10. A Little Golf Journey
Developer: Okidokico
Publisher: Playtonic Games
The second in a quartet of great indie golf games on the Switch, A Little Golf Journey is another golf puzzler with a cardboard-esque aesthetic, although this one has a bit more of a narrative than Golf Peaks. It's up to you and your golf skills not just to get the ball in the hole, but to help bring color and life back into the world, adding a sort of Okami-esque twist to a simple and sweet concept.
In addition to sometimes silly physics, players can absorb a story centered on friendship as you zen your way through all the puzzles. Another that also belongs on a most relaxing list, A Little Golf Journey is a simple yet beautiful look at the kinds of stories that sports games can capture.
9. Mario Tennis Aces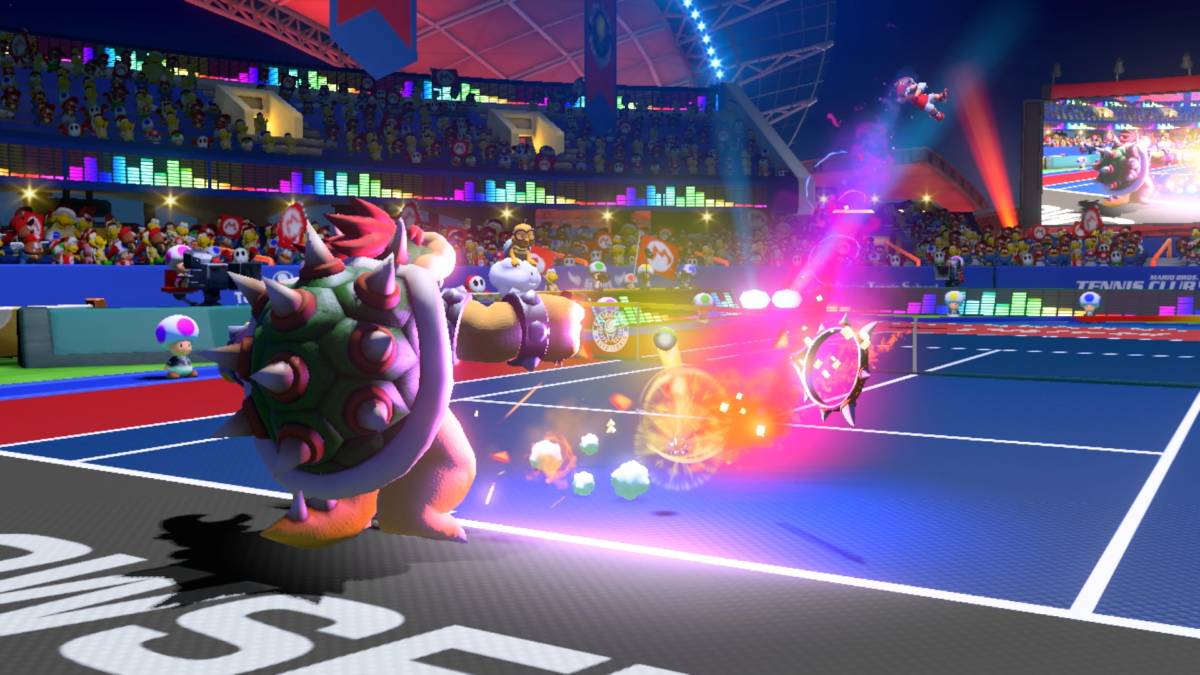 Developer: Camelot Software Planning
Publisher: Nintendo
As is tradition with the Mario series, Mario Tennis Aces is an updated version of a classic that's granted new life with each console generation. Each member of the Mushroom Kingdom gang has their own set of powers and specialties that helps spice up every single volley.
Besides some enhanced online play from the previous version on the Wii U, the biggest get in Mario Tennis Aces is improved motion controls and the first story mode in a Mario Tennis game since the GBA. Like all Mario games, the gameplay is simple but full of nuance. Things like picking up on an opponent's strokes and keeping track of the health of your racket are all aspects to have in mind as you have fun with everyone's trick shots.
8. Lonely Mountains: Downhill
Developer: Megagon Industries
Publisher: Thunderful Publishing
A game with the simplest objective in the world, Lonely Mountains: Downhill tasks you with just one thing: don't crash. The game's antagonist is the force of gravity pulling you downhill on your mountain bike as you satisfyingly bounce off boulders and scenery like your own rally course, not unlike something from the Trials games.
However, Lonely Mountains: Downhill is notably much quieter than Ubisoft's dirtbike sim, making for another chill title to just get lost in. There are races and other missions, but the true treasure of the game is just letting the downhill take you away from everything for a few strangely addicting hours.
7. OlliOlli World
Developer: Roll7
Publisher: Private Division, Take-Two Interactive
The third game in the OlliOlli series, OlliOlli World opens things up and adds even more vibrant colors and sick tricks. Whereas the previous entry sort of shakes off its extreme sports origins for something more tranquil, OlliOlli World dives headfirst into its roots by bringing you into the aptly named Radlandia to explore.
The presentation is absolutely electric, from the art style down to the music and every trick you can land in between. The controls handle well for a genre that can be funky at the worst of times, and it helps that the OlliOlli franchise was born as a PS Vita title, so it was designed with handheld fluidity in mind from the jump. It must be said, though, that the game is so full of cartoon action that being on a skateboard is maybe the only real "sports" thing about it.
6. Knockout City
Developer: Velan Studios
Publisher: Velan Studios
At a time when modern games seem obsessed with team arena battlers, it's incredibly easy to get lost in the shuffle. The more a game tells players to "squad up," it seems the quicker it gets relegated to the back. Not so with Knockout City, which has been one of the most surprisingly fresh games of late. It helps that it's free-to-play, pretty beginner friendly, and also promotes crossplay across virtually every platform.
Colorful, action-packed, multiplayer dodgeball duels that can take place seemingly anywhere is a formula that's hard to get wrong, even if the original trailers were less than enthralling. Of course, being greatly engineered towards online play means it might not be for everyone, but considering a title like this will be supported and gain more features over time, it could attract any number of players and play styles as long as people are willing to get blasted in the face looking for an adrenaline rush.
5. Golf Story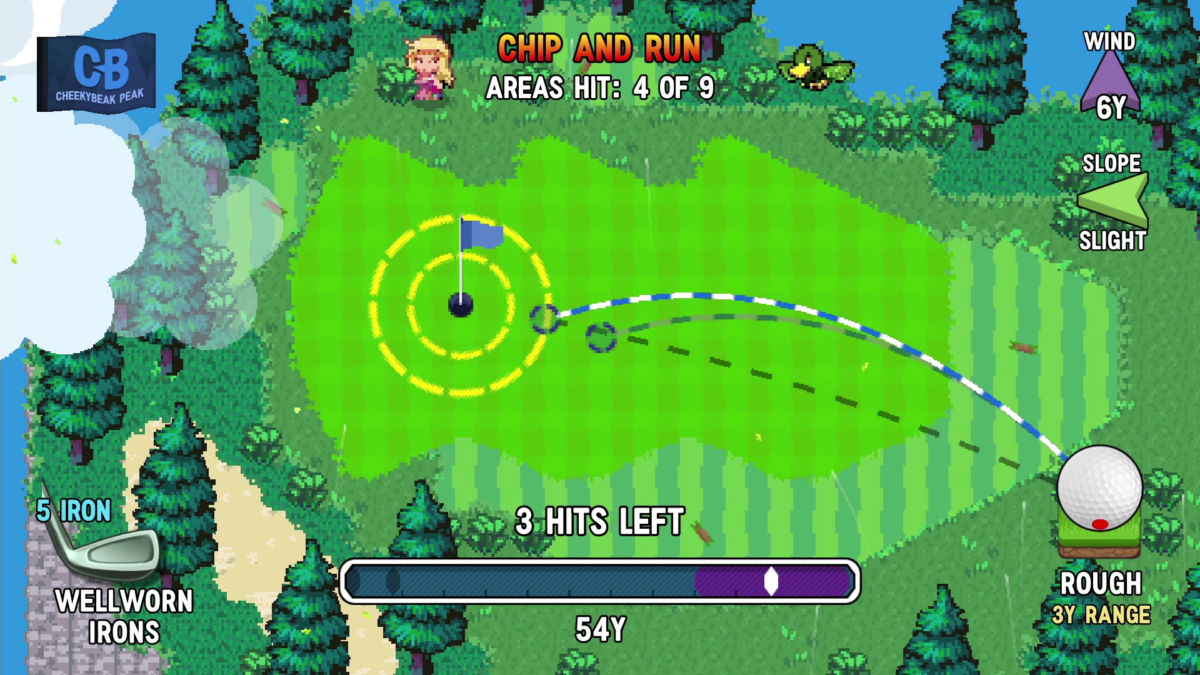 Developer: Sidebar Games
Publisher: Sidebar Games, Flyhigh Works
All of the games on this list come from the traditional sports game core of simple, mostly chill gameplay that isn't really attuned to telling an emotional, story driven narrative. Then again, most sports games aren't Golf Story, which undisputedly possess one of the most compelling narratives of any sports title.
You play as a golfer who had to give up the dream of making it pro at one point, but then tries to give it one last desperate go. Golf Story is driven by action-adventure mechanics, including being able to tee up in areas outside of golf courses. This also includes having tons of characters with lots of backstory and problems for you to solve. The sprite-centric graphical style is absurdly charming and is perfect for not only the Switch, but to convey the message of the piece of art itself. One of the best sports games on the Nintendo Switch, Golf Story is a fun and unexpected adventure for the dreamer in all of us.
4. Dodgeball Academia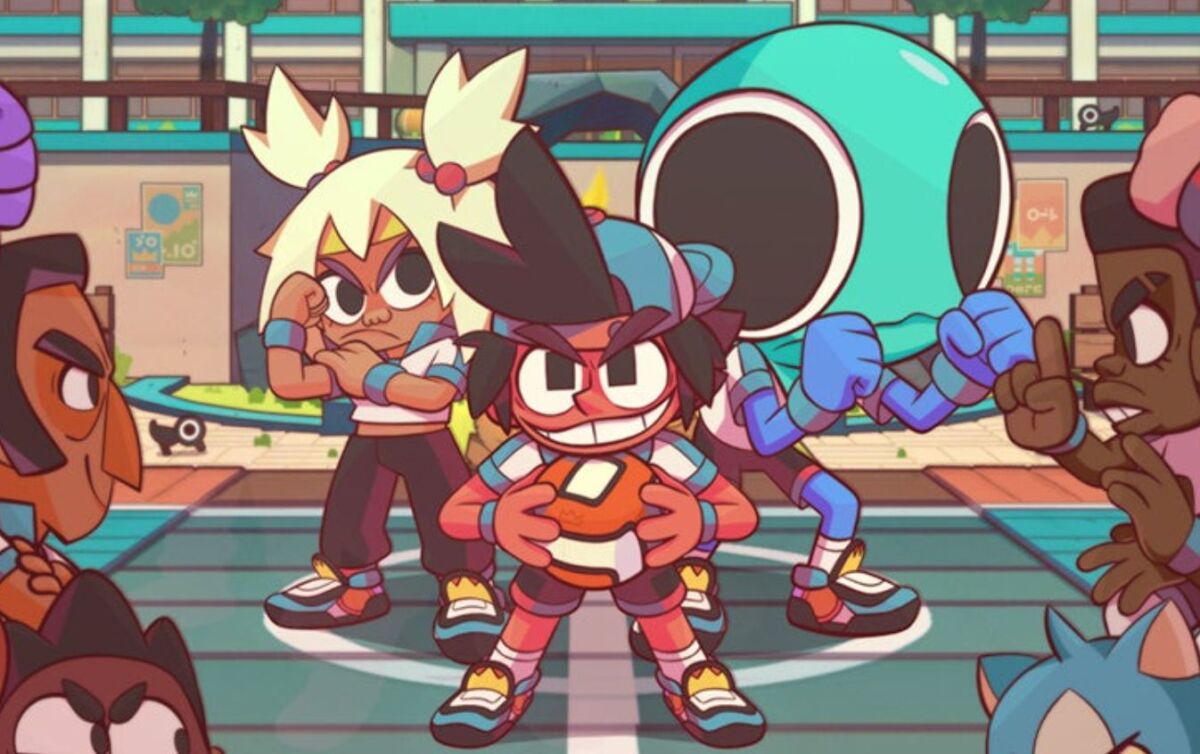 Developer: Pocket Trap
Publisher: Humble Games
So maybe you like the idea of perfecting your craft in the art of the dodgeball knockout, but you're not an online play kind of person. What if you also wanted more story, perhaps an RPG where dodgeball is the center of the universe? Your super specific prayers are answered with the wacky Dodgeball Academia, an action RPG sports adventure where you head to a special school to be the best that no one ever dodged.
You play as Otto, a vibrant kid who would fit right into a shonen anime, as you explore the vibrant halls of Dodgeball Academia and collect friends, rivals, and unlock the many mysteries hidden all over the place.
The game is remarkably well attuned to the RPG style, with lots of strategies based around character progression and taking advantage of every character's unique abilities. The art style may look a little on the old Flash animation side, but it doesn't ruin this truly one-of-a-kind game that's among the best sports games on the Nintendo Switch.
3. What The Golf?
Developer: Triband
Publisher: Triband, The Label
The absolute most ridiculous game on this list, What The Golf? is absurdism and parody applied to the entire concept of golf cranked all the way up to 11, or maybe 20.
While the other golf titles on this list are great for anyone, even those who don't play said sport, What The Golf? is geared towards "people who hate golf" and made by people "who know nothing about golf," according to the game's official summary.
To get the gist of what to expect, one level might have you golfing a horse, the next a cat, and then a refrigerator. No, not as opponents, but the things you'd put on the tee and slap with your club to go in the hole. To add to the calamity, the game added a campaign mode in November 2021 with loads with more puzzles and courses. With simple physics but crazy gameplay, What The Golf? is one of the most fun games you can own on the Switch no matter the genre.
2. Super Mega Baseball 3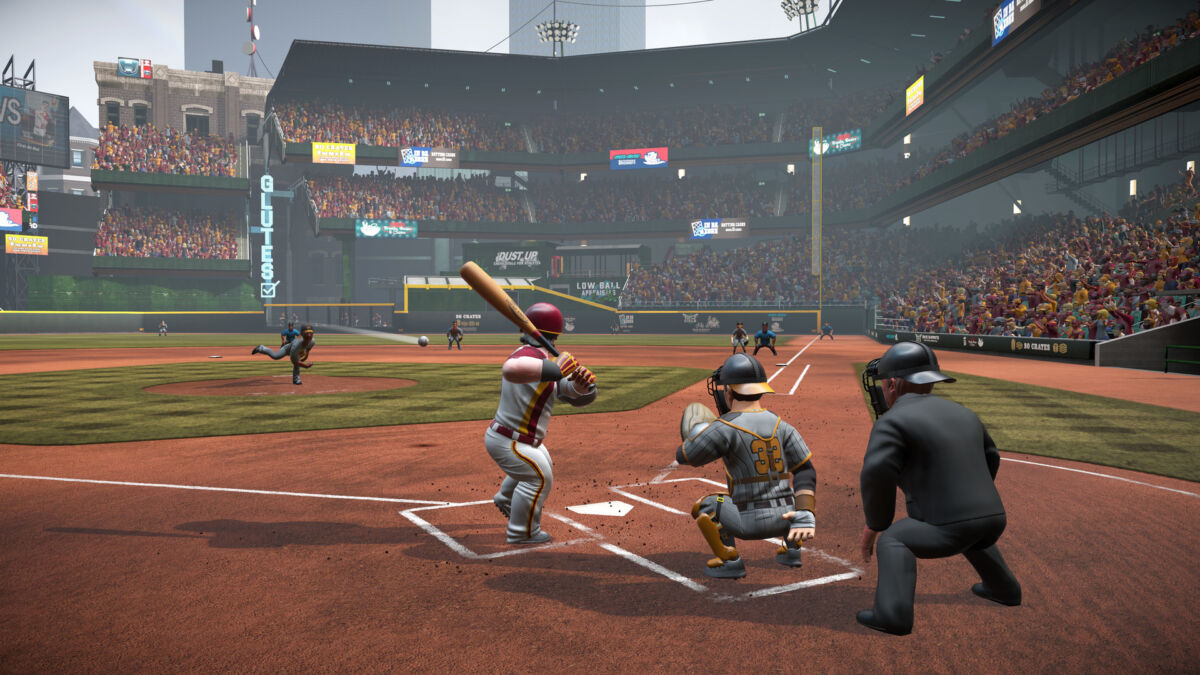 Developer: Metalhead Software Inc.
Publisher: Metalhead Software Inc., Electronic Arts
Yes, MLB: The Show finally found its way to the Switch in 2022, but not only does Super Mega Baseball 3 obliterate its counterpart's critical reviews on the console, but Super Mega Baseball 3 is the highest scoring sports game on the Switch, period, according to Metacritic. If the name sounds like a dumb, fun arcade game, that's because that's exactly what it is.
Simple, quick, and for sure more on the arcade than real simulation side, Super Mega Baseball 3 may have a non-intuitive control scheme, but that's partially because it's possible to play this baseball game with the Joy-Cons by your side. The gameplay is excellent, but it does have some presentation oddities – the player models vary between uncanny valley and borderline nightmarish, oftentimes looking like plastic toys someone left in the oven too long.
If you can look past this, however, you have the perfect arcade-sim hybrid that allows you to play surprisingly in-depth entire baseball games mere minutes at a time. Considering how baseball is the most only-the-numbers-matter sport (thanks, Moneyball), it's actually pretty easy to just play ball and overlook the off-model, uh, models.
1. Rocket League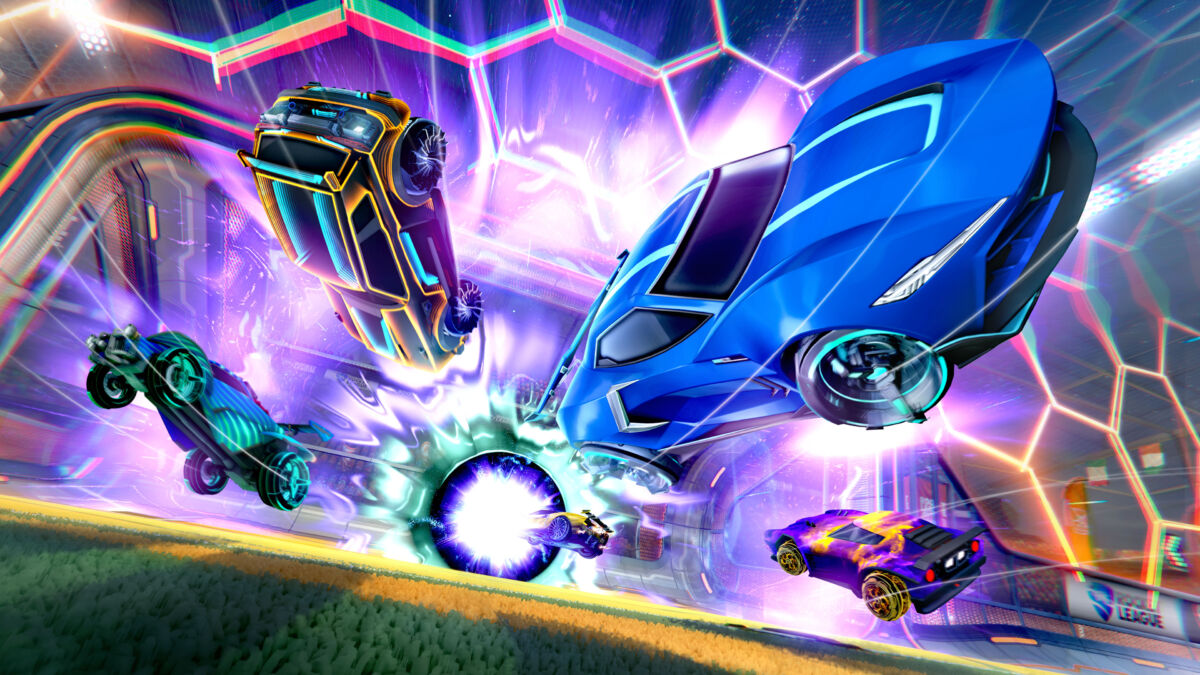 Developer: Psyonix
Publisher: Psyonix
At this point, what is there to say about Rocket League? The truck soccer phenomenon has taken the world by storm, and with the introduction to play it handheld, it hasn't let the foot off the gas.
For those uninitiated, Rocket League is a smash indie hit released in 2015 where you play as toy RC-esque trucks on opposing squads trying to get a giant ball into the other's goal. Full of arcade madness, ridiculous physics, and exploding goal celebrations, Rocket League has been a mainstay at all kinds of tournaments and couch parties for nearly a decade.
The Switch version fits the super addictive pick-up-and-drive-on-the-ceiling style of play like a glove, even if it predictably runs slower than its PC counterpart. Other than some simplified resolutions, the game launched on the Switch in the console's first year and helped establish that Switch ports didn't have to cut corners.
There's nothing missing from this port; everything is there and while it might take a moment to adjust your gameplay to a different set of controls, none of it stops Rocket League from being the best sports game on Nintendo Switch.
READ MORE: 18 Best Switch FPS Games You Should Play
Some of the coverage you find on Cultured Vultures contains affiliate links, which provide us with small commissions based on purchases made from visiting our site. We cover gaming news, movie reviews, wrestling and much more.